Would you like to become a member of the Mile High Chapter? 


Membership dues are $10 for one year from Octobér to October due annually. You can paypal your $10 to
[email protected]
or click on the button below. 
More information can be found on the "Membership" page.
Feel free to submit any questions on the form on the "Contact Us" page.
Mile High Chapter SWAG?


Chapter Patches-$6
​

Chapter Bracelets-$5

Chapter Polo Shirts-$16
All money goes to our scholarship fund.
Denver Air Traffic Controller SWAG
Visit the website
here
to support our Air Traffic Control Friends.
Would you like to donate to the Mile High Chapter?


You can do so easily right here!
Any donations received will go to fund the Mile High Chapter's initiative to provide scholarships and other opportunities to our members.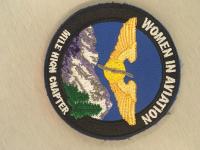 Donate
Become a Member